EXPO & TRADE SHOW
How to Hyper-Market Your Project
Coming in May 2017
Houston, TX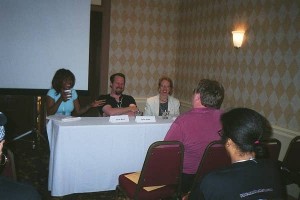 Workshops, Special Guests, Website Evaluations, Mentoring Sessions, Movie Marketing Test with Prizes, Trade Show with products, apps, Guest Bags, Product demonstrations and Breakout mentoring sessions. Bring your laptop, tablet and/or smartphone to help get your project promotions optimized and maximized in this digital world.
EXPO SCHEDULE
Saturday
Trade Show is open all day today!
9:00 am – 11:00 am
Clarifying Your Brand (Defining your company, your project, your product or service…) Identifying Your Audience (Who are they, where are they, what they represent…)  
11:15 am – 1:15 pm
Mobile, Traditional, Digital, Alternative, Geographic and Social Media Marketing Psychology of Design, Color Presentation
1:15 pm – 2:15 pm
Lunch is on your own  
2:15 pm – 5:15 pm
Website Reviews (What's going on with your website, really?) Hands-On  Website Analysis (What does the data mean and how you can use it to get better results)  
5:30pm – 7:00 pm
Screening of top 5 movie marketing campaigns  
Sunday
Trade Show is open today!  
9:00 am – 1:00pm
Explorations with Augmented Reality  Entertainment Marketing Tools and Resources Meet the Experts (20 Minute Mentoring Sessions) Interactive Trade Show  
2:00 pm – 4:00 pm
TBA TBA  
4:00 pm
Trade Show Closes Expo Closes  
Expo Pass Fee:  $75  
Simply put, one pass, one low price, two days.  
The Expo Pass includes:
 Website Reviews Workshops Trade Show – All Access Screenings of 3 Top Marketing Campaigns Mentoring Breakout Sessions Expo Guest Bag